Our History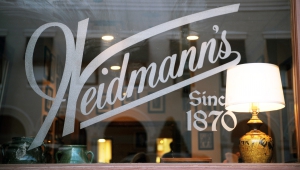 Weidmann's was established in 1870 by Felix Weidmann, a Swiss immigrant who was a chef on a transatlantic steam ship. The restaurant was originally located in the Union Hotel with a counter and 4 stools. In 1923 the restaurant moved to it's present location under the ownership of Henry Weidmann, grandson of the founder.
During the 40's, 50's and 60's, the restaurant garnered national recognition and became a mainstay for Meridian and surrounding communities. During this time that the restaurant was open 24 hours a day, 7 days a week, closing only for Christmas Day. In the 60's the mantle of ownership was passed to Shorty McWilliams and his wife Gloria (Weidmann). Shorty was a football star at Mississippi State and West Point and twice finished in the top ten for the Heisman Trophy. In the 1980's ownership was passed to Poo Chancellor and his wife Gloria (McWilliams).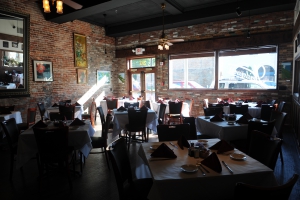 In 1999, a group of 54 investors purchased the building and restaurant and completely renovated the site. Weidmann's reopened in 2000 under new ownership. In 2010, the restaurant closed briefly and was reopened by Charles Frazier, with the goal of providing outstanding and affordable Southern Cuisine in an historic setting.
Many of the recipes of the original Weidmann's have been revived as well as new classics which are enjoying local popularity. The restaurant has been featured in many books, magazines, cookbooks and television shows. Another Weidmann's tradition is the vast collection of photographs of celebrities, employees and local guests. Please take some time to enjoy the many photographs of our guests, collected throughout the years, as well as the original artwork on display by local artists.
The Peanut Butter Crocks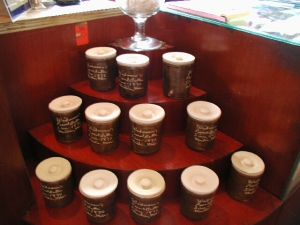 Each table at Weidmann's is set with a handmade peanut butter crock and an assortment of crackers. This tradition dates back to the 1940's, when legend has it there was a shortage of butter due to the WWII. A guest mentioned to Henry Weidmann that peanut butter would be a good replacement to accompany the crackers. Henry embraced the concept and eventually found a potter in Louiseville, Mississippi to make the crocks. We now have a local potter in Meridian making the crocks by hand. If you would like to purchase one, please as the server.
Merchandise
Peanut Butter Crocks – All of our crocks are homemade by a local artist – 27.50
*T-Shirts – Weidmann's logo T-shirts 100% cotton – 20.00
Hats – Weidmann's logo hat – 20.00
The Original Works of Art on display in the restaurant are all by local artists.  Meridian is very fortunate and proud to have such a vast community of artists.  Most pieces are available for sale from which 100% goes to the artist.
Send us a picture of you wearing your Weidmann's T-shirt on vacation and we will send you a $5.00 gift card. We will also hang your picture on our wall of fame. Mail Photograph, with your name and address on back, to 210 22nd Ave., Meridian, MS 39301.